MY LIFE ROM A-Z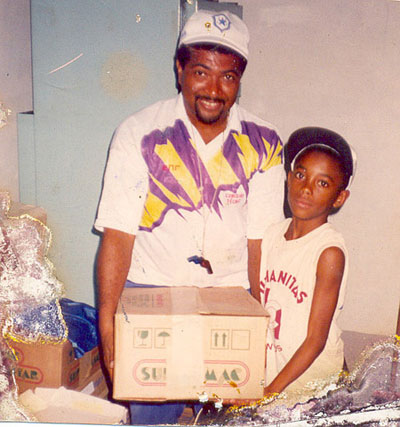 Robson de Souza, or Robinho, is one of the greatest talents to come out of Brazil in recent times. Born in S´o Vicente, a city near Santos, he was discovered at a very young age and was still a just kid when he made his debut as a professional footballer. By the time he was 18 he was the star of the Santos side that won the Brazilian league in 2002.

Robinho´s life with a football at his feet ´ or a futsal ball, as it was at the time ´ began at the Beira-Mar sports club. The club has now disappeared and given way to a sports complex bearing his name, but it was there that Robinho first delighted fans and exasperated opponents with his disconcerting dribbles.

At the age of nine, he scored 73 goals in one season of futsal and, in 1994, his coach Roberto Ant´nio dos Santos (better known simply as Betinho) took him to play on a full-size pitch at the Associa´´o Atl´tica dos Portu´rios, a dockworkers´ club. From there, he quickly moved to the Santos youth academy.

As always, the lad at his side was his faithful teammate, Diego. At first, Robinho was in his teammate´s shadow. When Santos scouts went to see the pair play for the first time it was Diego who caught their eye. But Robinho gradually blossomed and after the two youngsters helped Santos to the S´o Paulo state Under-17 title in 2001, they were both promoted to the first-team squad.

Santos fans couldn´t believe their luck at seeing two such stars appearing on the scene at the same time. Robinho even won the personal blessing of Pele, who was responsible for coordinating Santos' junior teams at the time.

It was in 2002 that Robinho´s fame began to grow beyond Santos and he soon became known nationwide. In less than a year, he had gone from being a promising youngster to one of the big stars of the Brazilian game. In that year´s national championship race, he helped Santos win the title for the first time in 18 years.

In the final against Santos´s biggest rival Corinthians, he reined supreme. In addition to scoring a goal, he delighted fans with his trademark stepovers. The following year he took Santos to the final of the Libertadores Cup and a year after that he helped them to another Brazilian league title, delighting fans across the country as he helped to bring the joy back to football.

After conquering Brazil, it was time to seek new challenges. It was his former coach at Santos, Vanderlei Luxemburgo, who first opened the door to Europe by signing him for Real Madrid, one of the best known clubs in the world, where he was handed the No. 10 shirt.

For his country, Robinho is still practically a novice. However, following Brazil´s disappointing performance at the 2006 World Cup in Germany, where he was given little chance to show what he can do, he has now become one of the regular strikers in the national team squad and should certainly have a key part to play at the 2010 World Cup in South Africa.

On September 1, 2008, Robinho completed a ´42.5m move to Manchester City.