Club history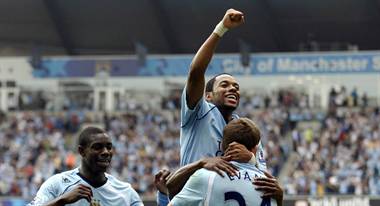 Manchester City was founded in 1880 by Anna Connell and two wardens from St. Mark´s Church in Manchester. Originally, the club was known as St. Marks (West Gorton), but after a relocation to the east of the city the name was changed to Ardwick A.F.C. Ardwick were one of the founders of the Second Division in 1892, but after financial problems in 1894 the club was reorganised and the name was changed yet again to Manchester City F.C.

Manchester City won their first major trophy in 1904 when they defeated Bolton Wanderers in the FA Cup final. However, in 1906 a scandal erupted when 17 players were suspended after allegations of corruption. In 1923 Manchester City moved to Maine Road in the working-class area Moss Side and won the FA Cup again in 1934 before winning the First Division title in 1937. A third FA Cup win followed in 1956 in one of the most famous ever finals where City goalkeeper, Bert Trautmann, a former German prisoner of war, played on despite having broken his neck in a collision with a opponent.

Manchester City were relegated in 1963, but were rejuvenated by managers Joe Mercer and Malcolm Allison who oversaw the club´s most successful period. They won the League for a second time in 1968, the FA Cup in 1969 and City claimed their first European trophy in 1970, beating Gornik Zabrze from Poland in the Cup Winners´ Cup.
After the glory years of the late 1960s and early 1970s the fortunes of the club began to decline. A League Cup win in 1976 and an appearance of the FA Cup final in 1981 were the only highlights for the Maine Road faithful. In 1998, the club suffered the lowest ebb in its history, when they were relegated to the third tier in 1998. It was the first time a former European trophy winner had ever fallen so low.

Charismatic manager Kevin Keegan guided Manchester City back to the Premier League in 2002 and the club has since been an established force in the top flight, but never challenged for the top spots. Former Thai PM Thaksin Shinawatra took charge of the club in 2007 and former England manager Sven-G´ran Eriksson was appointed coach. However, the 10th place finish was regarded as an underachievement and the Swede was replaced by former Manchester United and Wales star, Mark Hughes. On 1 September 2008, an Abu Dhabi-based investment group took control and instantly showed their intention to take City into the international elite, by buying the Brazilian Robinho from Real Madrid for a reported ´32.5 million fee - a British transfer record.

Manchester City play at the impressive City of Manchester Stadium having moved from Maine Road in 2003 and have a fanbase that is renowned for its loyalty. Prominent players in the history of Manchester City include Billy Meredith, Bert Trautmann, Mike Summerbee, Colin Bell, Francis Lee and Georgi Kinkladze.